Do I have a story for you! And I had some pictures, but I can't find the cord for the camera. So alas, I will have to make due…and you have to deal with it! j/k 🙂
So back in July when I first started with Team in Training, the first thing they told us to do was to get a good pair of running shoes. They suggested Run with Us in Pasadena, so I went out there to go get a pair of good running shooes.  When I got there, they watched me walk, then they brought out a few shoes and I settled on the Asics GT 2130. It is a stability shoe and I thought it was a good pair. Plus, at the time, I thought it was cool to have Asics…
I started to run with them and they were ok. I started to realize that they probably didn't have as much cushioning that I would want. But overall it was a decent shoe and I just spent a bill on them so I figured….keep 'em! Then George started looking for running shoes. We searched far and wide and probably returned 3 or 4 pairs. One of the places we went to was Road Runner Sports. They are really cool! They record your walk and you also walk over this mat to see how you step. It is very technical and so I did it and they brought me out some shoes. Here is a video from someone who went to Road Runner Sports and did their gait analysis:
I told them I probably wouldn't be buying any shoes, because I just bought a pair, but they were happy to help and they brought out this shoe:
The Saucony Progrid Guide. Overall, I really like the shoe, had nice cushioning and supported my foot. But like I said before…just bought shoes, so I put it on my list of things to buy in the future.
So then…the future comes….I go over to Run with Us and see that there is a new model…this one: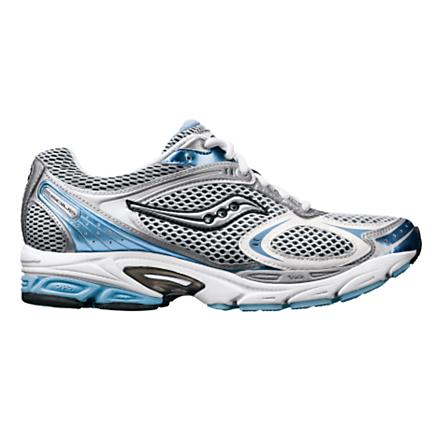 "Alright" I say…kind of cool that they darkened the cloth because that white would get dirty…So I try them on…and OMG they feel HORRIBLE! There are these weird pressure points and my arch just falls over the shoes and it is uncomfortable and just icky! So then I go into panic mode because no one has the old Saucony's! I go to Road Runner Sports, Snails Pace, finally I go to OnlineShoes.com…and there they are…in my size and width…I bought those things so fast! Tunrs out that Saucony changed the whole format of this shoe, so the new model is totally different then the one that I liked originally.
So last night they came in their little box and the first thing I do is throw on my running clothes and go for a run! I actually was feeling adventurous with my new kicks, so I decided to head over to the park near my house, I ended up doing about a 2 mile run and the shoes felt good! No problems with my achilles, maybe a little soreness in my arch, but a new pair of insoles will fix that! 
Hope everyone is having a good Friday, tomorrow i am going on a ride with the Pasadena Tri Club, it will be my first Saturday ride since a while ago! For whatever reason, every Saturday morning has been filled with something making it hard to get out there. Not looking forward to waking up at 6AM, but I am looking forward to a challenging ride!